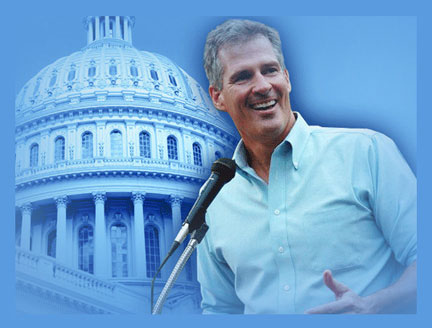 Last Tuesday, (election day in Massachusetts) Sandy and I drove to Wichita to meet with a prayer leaders to begin preparations for our April Spiritual State of the Union Tour in Kansas aboard Prayer Force One.
As our meeting was winding down, the discussion turned to the high profile U.S. Senate race in the state of Massachusetts. Of course this was before the polls closed and none of us had a clue of what the evening outcome of the election would be. Without disclosing the content of the comments that were made, what really impressed me was that all of us at that table mentioned that we had each prayed for God to bless the outcome of that election.

What was at stake was more than a single U.S. Senate seat, or as the Democrat's referred to it, "Ted Kennedy's seat". No, what was at stake was Barrack Obama's chock-hold on the entire U.S. Senate, where his 60-vote "super majority" gave him an invincible lock against the opposition's paltry 40-vote minority. Hence, Scott Brown's campaign theme morphed into the symbolic number "41".

In effect, what was really at stake was the liberal-left's complete and total ownership of the entire federal government.

Tuesday night changed all of that! During a campaign debate, Republican candidate, Scott Brown, reminded the moderator that the senate seat he sought was not "Ted Kennedy's seat", but "The people's seat". On Tuesday, the people of Massachusetts also reminded America that it was not "Barrack Obama's government" but "The people's government".

But, it was really even more than that.

This election was not just about a single candidate or a shocking and unexpected mega-victory for the Republican Party. After all, while Brown is certainly a conservative by Massachusetts standards, he is hardly the kind of social conservative that would have broad national appeal to the powerful pro-life base of the Republican Party. For that matter, this election cannot even be interpreted as a pure referendum on either national health care or Barrack Obama's first year as president. (Although it does seem to be a dismal foreboding for the future of both.)

To my mind, this election was about two things: The American people, and the overruling providence of God Almighty!

Where the American people are concerned, they clearly demonstrated that they indeed want change, but would not tolerate political presumption, and party pomposity.

Where God is concerned, He again demonstrated "That the most high God ruleth in the kingdom of men, and that He appointeth over it whomsoever He will." (Daniel 5:21)

We should all be humbly reminded that God still answers prayer with an intervening heavenly wisdom that defies the understanding of all mortals, including that of those who do the praying. While neither Barrack Obama nor Scott Brown would have been my idea of answered prayer, I am reminded that God still works in mysterious ways in how He answers our prayers.

In 2008, many of us prayed for a pro-life president that would guard the sanctity of life, appoint pro-life judges, and defend the sanctity of Biblical marriage. Instead, we ended up with a pro-abortion, gay and lesbian advocating socialist.

However, because of 2008 ascension of the liberal-left, we are now witnessing a subsequent stirring within the American people. Has this not come about as a result of the election and policies of a president who has radically overplayed his radical hand? Perhaps we are beginning to see how last year's presidential election results may very well have been a time-delayed answer to our prayers. Indeed, this path may have been the only way to awaken everyday Americans to action.

So, who really fired the Massachusetts shot (vote) heard round the world this last Tuesday night? Scott Brown? The Tea Party activists? The Independent swing vote? The Republican Party? The voters of Massachusetts? While I am content to let the party operatives and political pundits jockey to claim credit or place blame, I do feel compelled to remind believers that God has not abandoned us.

To my mind, the reverberating echo of Tuesday's "vote heard round the world" is that God is still in charge, and that He still hears and answers our prayers even when we sometimes fail to comprehend what He is doing. Our job is not to dictate how God should answer our prayers, but rather to keep on praying. Thankfully, God is quite capable of taking it from there!