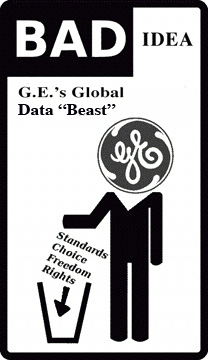 During the recent Winter Olympics, I was both shocked and alarmed as I watched a commercial by General Electric. Perhaps you saw it too. It aired time and again during prime time Olympic coverage. In this commercial, a helpless man is sitting before his personal physician with his pants off, only to find that, unbeknownst to him, the whole medical world was watching from the gallery. As the doctor asked his patient question after personal question, someone else from the gallery would stand up and answer as the patient looked on in embarrassing disbelief. The commercial ends with this poor fellow timidly asking for his pants back as the announcer explains the glories of a global database that would contain total information about each and every one of us.
As I watched this commercial it became perfectly clear why President Obama is willing to sacrifice everything, including the entire Democrat Party and even this own presidency, in order to get his so-called health care bill passed. You see, health care is the one and only mechanism that gives government the authority to take total surveillance control of our lives. It is almost impossible for any government to exert lasting control over free people if it is denied the authority to know everything about them. Health care is the vehicle that leads to socialism's much longed for prize of total government control.
Then, just today, I heard G.E.s radio version of the same commercial. In this version, the announcer asks the listeners to imagine how large a building it would take to contain the personal medical records of every individual on planet earth. It then goes on to again explain that, electronically speaking, this is exactly what General Electric is now actively developing.
Why, I ask, is this necessary - and for whom??? Talk about an invasion of privacy! Can we spell A-G-E-N-D-A? If anyone ever doubted the Bible prophecies, this alone should wake them up. George Orwell himself never dreamed of anything like this! When we stop to realize that there is actually a global effort that seeks to catalogue information on every single soul on planet earth, we should also know how to spell S-C-A-R-Y!
Only when we understand that socialized medicine is the vehicle to building a global data base, can we then understand President Obama's obsession to get some form, any form, of federal health care passed.
If nationalized health care passes, government bureaucrats will obtain the necessary authorization to build a personal dossier on every single American citizen. This in turn will be dumped into the global "data-beast".
If nationalized health care passes, the federal government will have the power to fine and punish all of those who refuse to participate.
If nationalized health care passes, the federal government will have the power to use tax dollars to pay for abortions in spite of current and future state objections. Doctors who refuse to perform abortions will be in jeopardy of fines and/or denied the right to practice medicine altogether.
If nationalized health care passes, government bureaucrats will have the power to deny the elderly the option of life-saving measures. And on it goes... Surely "the mark" will not be far behind! Already, global photo imaging is being incorporated into data bases all over the world. (But that's another story)
In spite of empty reassurances to the contrary, these things I mentioned above are real possibilities. Yet, for all of this, the most horrid reality of the nationalized health care nightmare is that it will lead to subsequent government intrusion into every aspect of our lives. Health care will, in effect, become "the coronation of global socialism in America".
Let us pray that God will continue to "discomfit" the Philistines as He did in I Samuel 7:9. Let each of us also call our senators and representatives and let them know that we are altogether opposed to national health care.
At one time, General Electric had a real American spokesman in the person of Ronald Reagan. But then, that was before G.E. fired him for his increasingly conservative views. Be that as it may, President Reagan still said it best when he quipped. "Socialism will only work in heaven where they don't need it, and in hell where they've already got it!"
Today however, it seems that President Obama is willing to sacrifice everything to impose his socialist utopia on America. The question is whether Americans are willing to sacrifice as much to stop it. In my view, the only way for Americans to keep from standing naked and helpless before "big brother" is to never give the federal government our pants in the first place.
Enough said!
Ed Moore is President and Chief Columnist Of Prayer Force One